Adam Lambert Week in Review – October 7-13, 2012
October 7, 2012
By Juneau, Xena and Claudia. Follow us on Twitter @JuneauXena, @XenaPW, @GlamFanNation & @AdamLambertBook
♥♥♥♥♥♥♥♥♥♥♥♥♥♥♥♥♥♥♥♥♥♥♥♥♥
WATCH FOR IT!!! ITUNES ON OCTOBER 16!
INFORMATION ABOUT REQUESTING TRESPASSING via @ladyBRinehart
Now that we have an add date, it's time to start requesting o/

Like request campaigns in the past, we're targeting major national stations and your own local ones.

To show early support, please call, text, or tweet daily over the next week (ranked in order of importance), especially Z100 and Q102. Any station that is iHeart should take out of area requests. If you'd like to do it more than once, please feel free but remember to space them out and not to spam. Any little bit helps. More advice at the bottom and stay positive :3
*Z100 NY: 800-242-0100 | text 55100
*Q102 Philly: 800-521-1021 | text 71021
KTU NY: 800-245-1035 | text 31035
B104: 610-720-1041
DC HOT995: 1-877-995-4681 | 99338
KISS-FM LA: 800-520-1027 | text 41027
CHUM FM: 416-870-1045
Fox All Access: 877-268-6815
♥♥♥♥♥♥♥♥♥♥♥♥♥♥♥♥♥♥♥♥♥♥♥♥♥
He leaves us speechless…
♥♥♥♥♥♥♥♥♥♥♥♥♥♥♥♥♥♥♥♥♥♥♥♥♥
ACTION ITEM
Adam's Team Confirms Radio Edit Push on iTunes!
Via Request Adam Lambert: We were able to get confirmation from Adam's team that next week we should exclusively focus our efforts on purchasing the "Trespassing" radio edit (by Pharrell)!!!

They want to see this song hit radio and a strong showing even of only 1-3 days on iTunes can make an impression. *WE NEED TO ALL BE ON ONE PAGE to maximize the iTunes chart position.* To move up on iTunes, the radio edit has to sell at a faster rate than the other songs.
The Trespassing EP drops on October 16. Fans are urged to focus on the radio edit of "Trespassing" (not on the EP) to get it counted as a single sale. Fans can buy, gift, or donate to a fund that will gift the single to other fans. Here's the link to make a donation.
♥♥♥♥♥♥♥♥♥♥♥♥♥♥♥♥♥♥♥♥♥♥♥♥♥
MELBOURNE CONCERT LOW-DOWN
"International pop superstar Adam Lambert will be lighting up the stage after the conclusion of the final race on BECK Caulfield Guineas Day. The performance will take place on the Fashion & Entertainment stage at approximately 5.40pm."
World clock  & Live stream at 2:40am ET Saturday, October 13, 2012 
Twitter List: https://twitter.com/nzglittertribe/caulfield
Here's our full concert coverage!!
♥♥♥♥♥♥♥♥♥♥♥♥♥♥♥♥♥♥♥♥♥♥♥♥♥
NEW ZEALAND!!
Twitlonger from NZGlitterTribeHQ:

Wednesday 10th October:
* Signing session at JBHifi Queen Street 4pm-6pm

Thursday 11th October:
* ZM studios (co-hosting Breakfast show Polly, Grant and NHG) 6am-10am (tbc)
* The Edge studios (interview at 8.10am)
* Interview with Kim Crossman http://www.kimberleycrossman.com/questions-adam-lambert__I.153111__N.91 (time and location not known)

Other (days/times unconfirmed):
* Breakfast (TV One) 6am-12pm
* NZ Herald Talking Heads Adam vs @Sarinmods
Adam Lambert appeared in Auckland,  New Zealand at Queen St's JB Hi Fi Wednesday to greet hundreds of fans!
Adam On TV3 News
NZ Herald: Adam Lambert comes to Auckland "American Idol runner-up and pop singer Adam Lambert appeared at Queen St's JB Hi Fi Wednesday to greet hundreds of fans."  Fantastics pictures!
ZM Online: Adam Lambert In-Store Album Signing "Hundreds of Glamberts showed up to meet Adam Lambert in person at JB Hi-Fi on Queen Street in Auckland." More great pictures!!
Adam finally meets the McEwan Brothers Liam and Aidan!!
♥♥♥♥♥♥♥♥♥♥♥♥♥♥♥♥♥♥♥♥♥♥♥♥♥
ADAM LANDS IN OZ….
Floofy hair
♥♥♥♥♥♥♥♥♥♥♥♥♥♥♥♥♥♥♥♥♥♥♥♥♥
NEWS ALERT
Adam To Perform At Star 101.3 Jingle Ball San Francisco Friday, December 14
♥♥♥♥♥♥♥♥♥♥♥♥♥♥♥♥♥♥♥♥♥♥♥♥♥
Adam Makes His National TV Acting Debut On Pretty Little Liars (EEEEEEK!!!) 😉
 ♥♥♥♥♥♥♥♥♥♥♥♥♥♥♥♥♥♥♥♥♥♥♥♥♥
DEPARTMENT OF EYE CANDY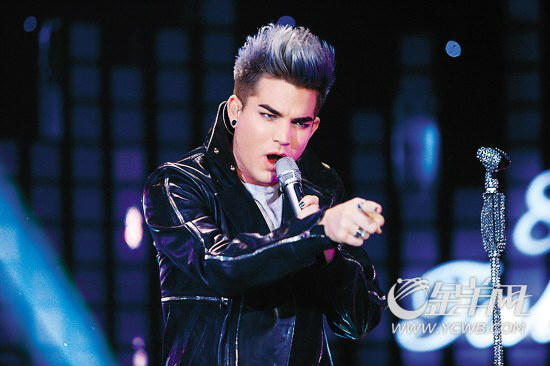 TONS MORE GREAT PICS OF ADAM AT THE 80s TALK SHOW VIA GLAM_ALIDOL'S BLOG HERE
PICS FROM TERRANCE SPENCER'S BIRTHDAY BASH!
♥♥♥♥♥♥♥♥♥♥♥♥♥♥♥♥♥♥♥♥♥♥♥♥♥
PRESS AND BLOG PICKS
ADAM LAMBERT INROCK Japan November 2012 Scans Thanks to @poochlove2. Who else on the planet could possibly rock that look? Who?!!
Examiner – 'Pretty Little Liars' season 3 episode 13 photos: 'This Is a Dark Ride' (SLIDE SHOW) "This "Pretty Little Liars" Halloween special is going to be exactly what it looks like: a crazy train ride where "A" wreaks havoc on the girls. As the photos released (you can see all the photos out for this episode in the slideshow at the top of this article) show, there will be some fun moments, including a couple of performances from Adam Lambert and a fun conversation between him and Aria."
MTV Style – Adam Lambert On 'Pretty Little Liars' Halloween Episode: Sneak Peek! "…the 23rd is the night that Adam will appear as a guest star on the Pretty Little Liars Halloween special! Here's what we know right now: Adam will perform at a costume party in the episode, which is called "This Is A Dark Ride." From a new teaser video, we know that one of the songs he will play will be "Cuckoo," from Tresspassing, and that his costume is something like a Victorian meets, well, Glambert, Vampire. We can't imaging it would be all that easy to sing with those fangs in, but if anyone can do it, Adam Lambert can."
The New Zealand Herald – Adam Lambert fan, 7, turned away by bodyguards "After being contacted by media today, Sony Music contacted the mother and organised for a signed pair of drumsticks to be sent to the youngster. The boy's mum said Sony was "amazingly apologetic" and explained that Lambert did not want the boy to go without having signed drumsticks."
The New Zealand Herald – Road to celebrity is littered with many surprises (reprint of an article in the Independent) "It's hard to place Adam Lambert. A runner-up on American Idol in 2009, his first album had a strong hint of glam rock, his latest stuff has a strong flavour of pop and emo, and he looks like a young (and slightly more handsome) Gary Numan."
Gather – Adam Lambert Becomes Weatherman for a Day "He obviously had a good time and later tweeted, "Me pretending to be an f**ing weatherman. http://tinyurl.com/8lsr5df ha ha ha!" Check out Adam reporting on the weather in New Zealand in the video…"
Stuff.co.nz – Adam Lambert whirlwind visit ""I have opinions, and they are strong ones.  And I want to be able to voice them about something I am so passionate about.  Anybody should have the right to get married and have equal rights as the other types of people that are married. Creating a separation there, and creating a lesser-than citizen, for an American, it feels unconstitutional.""
VH1 – Bite Into This Preview Of Adam Lambert's Pretty Little Liars Appearance "Back in August, Adam teased the role by sharing a picture of himself all gussied up in a ruffle-chested blouse, his face blotted pale and fangs in full show. Now, we get one better as a preview the episode has made its way online. The quick clip shows Vampire Adam and Aria (played by Lucy Hale) getting chatty before Vambert runs off to perform and a spooky mime sweeps through the Halloween party." Yeah, we've seen this already, but it's worth watching AGAIN….
92.3FM – How To Dress Like Adam Lambert For Halloween "Embrace your inner rock star by dressing up like Adam Lambert this Halloween. You'll need all black for this look so channel your fierce dark side." Fun!
Music Daily News: Adam Lambert Tour Happening Next Year  Adam Lambert has been very busy promoting his new album, Trespassing, around the world. He is currently in New Zealand, but he also made stops in Australia and parts of Asia along the way. He also performed a few shows with Queen in June in Europe and slightly toured around the United States during the summer, but what's next? Apparently, sources confirm to us that Lambert will be touring in a rather formal manner next year. It is unknown when or where the tour will start, or whether it will happen early or late 2013, but it will happen.
Yahoo Music Reality Rocks: 'Pretty Little Liars' Preview: Halloween Comes Early For Adam Lambert Fans "To loosely quote Ministry, every day is like Halloween for "American Idol's" most stylish and flamboyant alum, Adam Lambert–who is no stranger to "playing dress-up" and seemingly never leaves his lair without putting on some absolutely fabulous get-up and a faceful of guyliner. But of course, he always takes it to a new Lambertian level on the actual Halloween holiday, often tweeting costumed photos of himself looking so cool, it's scary. Well, Halloween has come early for Adam and his fans, as spooky footage of his upcoming appearance on the Halloween episode of ABC Family's "Pretty Little Liars" has finally hit the Interweb…."
The Insider: WATCH ADAM LAMBERT MAKE 'PLL' CRAZY! "News that Adam Lambert, one of the most passionately followed artists on Twitter, would be guest-starring on the Halloween episode of Pretty Little Liars, the most talked-about show on Twitter, pretty much broke the Internet. So I'm nervous to say this, but I've got a fun sneak-peek clip of Adam singing on Pretty Little Liars' October 23 episode, titled This is a Dark Ride! And the clip only reinforces what PLL creator Marlene King told me back in July. When asked what made Lambert the perfect guest star, she said, "Everything! His look, who he is, the songs he sings (Cuckoo and Trespassing off his sophomore album) — it feels like those songs are perfectly written for the Halloween episode of PLL." One click and I think you'll agree! Pretty Little Liars' Halloween Episode airs October 23 at 8 p.m. on ABC Family."
Popdust: Adam Lambert "Pretty Little Liars" Preview  "We learned a couple months back that Adam Lambert would be making his TV debut—besides that reality show he was on that one time, anyway—in a cameo on ABC Family's Pretty Little Liars. Well, it's very nearly upon us—"This Is a Dark Ride" debuts on October 23rd, with Glambert in tow, and we even have a preview of his appearance, courtesy of Rickey.org. In it, Lambert (in full Halloween vampire getup) has a conversation with Aria about her absent boyfriend and a set Adam's just about to play, before a shadowy, costumed figure comes over and doses Aria's drink with something. We'd explain more, but we really have absolutely no fucking clue what's going on in this show. Lambert looks good as a vamp though! Think they can make room for him in Twilight, Breaking Dawn Part III: Always Darkest Before the Dawn? We hope so!"
Zap2It: Pretty Little Liars Halloween Sneak Peeks: Costumes, Adam Lambert and a Masked 'A'  "The Halloween episode of Pretty Little Liars is going to be one hell of a party. After the events of the first half of the season – which exposed Toby as a member of the "A" Team – the girls are looking forward to Rosewood's Halloween party. This year's party takes place aboard a train and features musical guest Adam Lambert…"
PressParty: Adam Lambert's 'Pretty Little Liars' cameo preview hits the web 'Trespassing' sensation Adam Lambert recently filmed a special appearance for the Halloween episode of 'Pretty Little Liars' and a clip of it has now surfaced online. Lucy Hale, who plays the character of Aria Montgomery on the show, tweeted a link to the new preview earlier today (October 9) and it shows Lambert dressed as a vampire while talking to her in the carriage of a train following his musical performance. Speaking about his involvement in the spooky episode, Lambert explained that it was a lot of fun and he enjoyed the theatricality of the costume he got to wear: "Yeah that was cool! It was the Halloween episode, so I got to dress up like a vampire which is like my standard Halloween costume that I go to every year. I put my fangs in and had a cool costume, and I got to do a little mini-scene with Lucy Hale who is lovely. I got to perform, so Happy Halloween!"
Adam in new issue of Russian magazine "Vse Zvezdi" 21/2012
(Caution- BS Alert!) Divine Varod: Sam Sparro on Adam Lambert "Girls are still angry that he is gay." "Gay artists should support each other"  "Sam Sparro, whom recently released his album "Return to Paradise" talks about his collaboration with Adam Lambert: "We've become friends. He is a great talent and a major entertainer. I've also contributed to his album. It's really strange that gay artists collaborate rarely collaborate, this should happen more often, gay artists should support each other. Adam has been open about his sexuality from the moment he started his career , this way you can't get into trouble later on. Although I was really shocked to hear that most of his audience is still unhappy about his sexuality. Maybe because he has so many female fans. You should see his fan base!! Some of them are so fanatic that they do some crazy stuff. I'm glad my fans are not that fanatical.""
Stuff.co.nz: Adam Lambert flies in for fans American Idol star takes album worldwide  "He is one of the most memorable people to not win American Idol, and this week Adam Lambert will be in New Zealand. The Whataya Want From Me singer, and reality TV show runner-up, is visiting Auckland to promote his new album Trespassing. And while he won't be performing this time around, Lambert will be making an appearance at Queen St's JB Hi-Fi tomorrow to sign copies of the album…"
TIMES LIVE: More tickets released for Adam Lambert concert  "In response to overwhelming demand, Big Concerts has released additional seated tickets for Adam Lambert's upcoming performances in both Cape Town and Johannesburg. Adam Lambert to perform in South Africa in November Lambert will be touring South Africa for the first time this November on Tuesday November 13 at the Grand Arena, GrandWest and then on Friday November 16 at the Coca-Cola Dome Johannesburg…"
SCANS – Gay Barcelona Magazine 2010 Adam Lambert – Spain via Lambertlust

"This is a a lovely and detailed behind-the-scenes recap of Adam's appearance on Tonight 80's Talk Show in Shanghai, China by the one of the directors, Nico Wang." 
….After this long prologue I'm getting to the topic. This is a behind-the-scenes revelation of working with a star and some thoughts I'd like to share with my friends.

Being a TV show director, I've worked with stars of many sizes and clout. As a result, my idol list has became quite short – less than five names are on it.
My attraction to Adam Lambert began when he appeared on American Idol Season 8. Ever since I was a child, when others were listening to the 'Big Four' (note: popular male Chinese singers of the 90's), I was listening to 'Panther of Tang Dynasty'. I'm a hardcore rock-and-roll fan. I was completely satisfied and happy watching Adam Lambert on American Idol Season 8 because Adam would always rework the songs to suit his rock-and-roll attitude. Song after song, my ears experienced orgasm. After his performance I just couldn't bear to watch the other contestants. Episode after episode, I was sure he would be the winner. Then…
Nothing more to say about it now…."  Read more